Minister KTR unveiled the Annual Reports 2020-21 of Industries Dept and IT, E&C Department at MCRHRD Institute.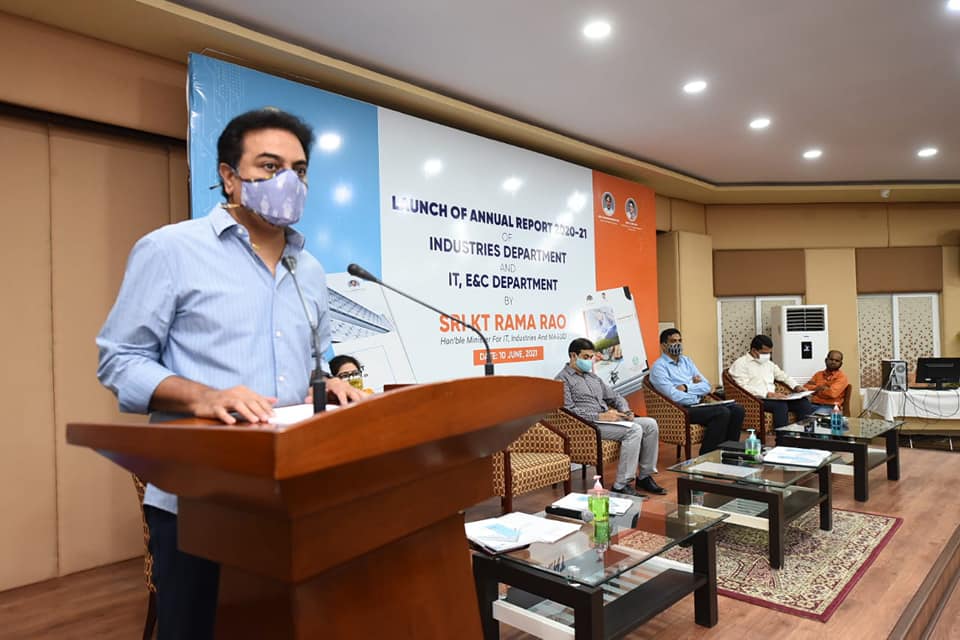 Principal Secretary Jayesh Ranjan, senior officials including Secretary, Handlooms, Textiles and Handicrafts Shailaja Ramaiyer, TSIIC Vice Chairman & MD Narasimha Reddy, Commissioner of Industries K Manicka Raj and Commissioner MeeSeva and MD, TSTS G.T. Venkateshwar Rao were present at the event.
Despite the adverse impact of
#COVID19
pandemic on economy, Telangana's IT/ ITES Exports stood at ₹1,45,522 Cr for the financial year 2020-21. An YoY increase of 12.98%. The State added 46,489 new jobs (at growth rate of 7.99) taking the total IT/ ITES employment to 6,28,615.
The share of Telangana's economy in National GDP has gone up by 26 basis points to 5.0% in 2020-21 against 4.74% in 2019-20
In 2020-21, the State recorded a per-capita income of ₹2,27,145 compared to the national average of ₹1,27,768
TS-iPASS facilitated cumulative investments of over ₹2,14,951 Cr, creating 15.6 lakh jobs. In FY 2020-21, TSIIC developed 10 new Industrial Parks allotting 810 acres land to 453 units with an expected investment of ₹6,023 Cr and employment of 7,623.